Opening page
SAVE THE DATE!
AUTOMOTIVE HUNGARY in 2018 between 17-19 October
Click on the picture and read more about the exhibition!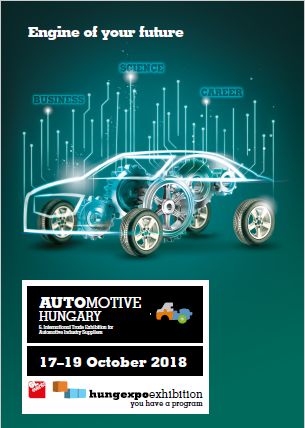 ---
AUTOMOTIVE HUNGARY - AUTÓTECHNIKA 2017
THANK YOU FOR YOUR PRESENCE AND HAVING CONTRIBUTED TO THE SUCCESS OF THE EVENT!
You can find more photos here.
---
AUTOMOTIVE HUNGARY 2017
In 2017 we organised AUTOMOTIVE HUNGARY,
the 5th International Exhibition for Automotive Industry Suppliers
between 18-20th of October at HUNGEXPO Budapest Fair Centre.
PARTICIPANTS
Car manufacturers: Audi, Mercedes, Opel, Suzuki
TIER1, TIER2, and TIER 3 suppliers
Exhibitors from 12 countries
New exhibitors from Germany, South Korea, Italy, Switzerland and Taiwan
Some of our partners according to the thematic of the exhibition: APZ, Bosch, Continental, Keyence, Knüppel, KUKA, Mitutoyo, Schneider Electric, TRUMPF, ThyssenKrupp, Wedco, ZF Hungária
Click HERE to see exhibitors' list!
PROGRAMS
Click HERE to see the program!
PROFESSIONAL PARTNERS
Association of the Hungarian Automotive Industry (MAGE)
National Alliance of Hungarian Vehicle Part Manufacturers (MAJOSZ)
Hungarian Investment Promotion Agency (HIPA)
CO-EVENT AUTÓTECHNIKA-AUTODIGA – International vehicle maintenance industry professional exhibition
---
SAVE THE DATE!
AUTOMOTIVE HUNGARY in 2018 between 17-19 October
What makes it worth to be an exhibitor?

10.000 professionals, that is potential business partner
A strong professional nature
National and cross-border media campaign
You can showcase your products for Hungarian and international professional visitors and the key market
players who we reach through major marketing and
PR campaigns
Interesting competitions and complementary events
for the representatives and decision makers of the
industry
Customized services to boost the efficiency of your
presence at the exhibition
It's the leading professional fair of the region
It's the most prestigious domestic professional
exhibition
The complex assortment of exhibitions based on the
synergy of multiple fields
Extensive professional support, rich professional programs



Do you have any questions?

Exhibition director
Mr. Gergő BARANYAI
Phone: +36-1/263-6104
E-mail: baranyai.gergo@hungexpo.hu

Sales Representatives:
Ms Erika KINCSES
Phone: +36-1/263-6088
E-mail: kincses.erika@hungexpo.hu

Ms Enikő MÁRKI
Phone: +36-1/263-6049
E-mail: marki.eniko@hungexpo.hu




We are waiting for your application!
Regards,
AUTOMOTIVE HUNGARY team